Building a profitable marketing funnel can be a real challenge. You probably know that already. There are countless moving parts to consider, and things don't always work out as planned.
The technical and tactical aspects naturally get the lion's share of attention. However, people often overlook marketing funnel strategies and get lost in the technology, metrics, and jargon.
Mastering the right marketing funnel strategies can help you:
Land better customers
Spend less on leads and customer acquisition
Increase your sales close ratio
Increase the lifetime value of new customers
Win business faster
If you want to build a successful funnel or make improvements, it's best to avoid common pitfalls. It's hard enough to execute tactics when your strategies are sound. But it's next to impossible to win business when you get the fundamentals wrong.
The top funnel mistakes most businesses make
From years of experience, I've consistently seen costly marketing funnel approaches:
Weak copywriting
Overwhelming lead magnets
Stale ads
Misaligned landing pages
Lead capture friction
If you want a funnel that works, it's wise to stay off that list. When you overcome these issues, conversion is a different ballgame, and your customer acquisition costs shrink in a hurry.
By implementing the following strategies, you'll spend less on lead capture and close more deals. So let's take a look at five winning strategies for high-performing marketing funnels.
1. Exceptional titles and headlines are crucial for marketing funnel success
STRATEGY: Spend half of your writing time on titles, headlines, and subheaders.
You're not getting far in marketing without several impressions and touchpoints before a sale. Prospects need to experience your brand numerous times to establish familiarity and trust. With each impression, most people are scanning and skimming without reading.
Often, your titles and headlines are the only copy your prospects will read. Copywriting professionals estimate that 80% of people read headlines, but only 20% read the rest.
"On the average, five times as many people read the headline as read the body copy. When you have written your headline, you have spent eighty cents out of your dollar."

– David Ogilvy
If you want more prospects to engage, your headlines need to be exceptional. Some of the best copywriters recommend spending half the writing time on headlines.
How to write irresistible headlines
Copywriting is an art. You're not going to become an advertising legend overnight. But you can quickly improve your response rate with a bit of strategy.
You're probably spending most of your writing time on features, benefits, and value. That's all well and good, but it doesn't matter if prospects don't engage.
Lucky for us, Google makes it easy to improve engagement with better headlines.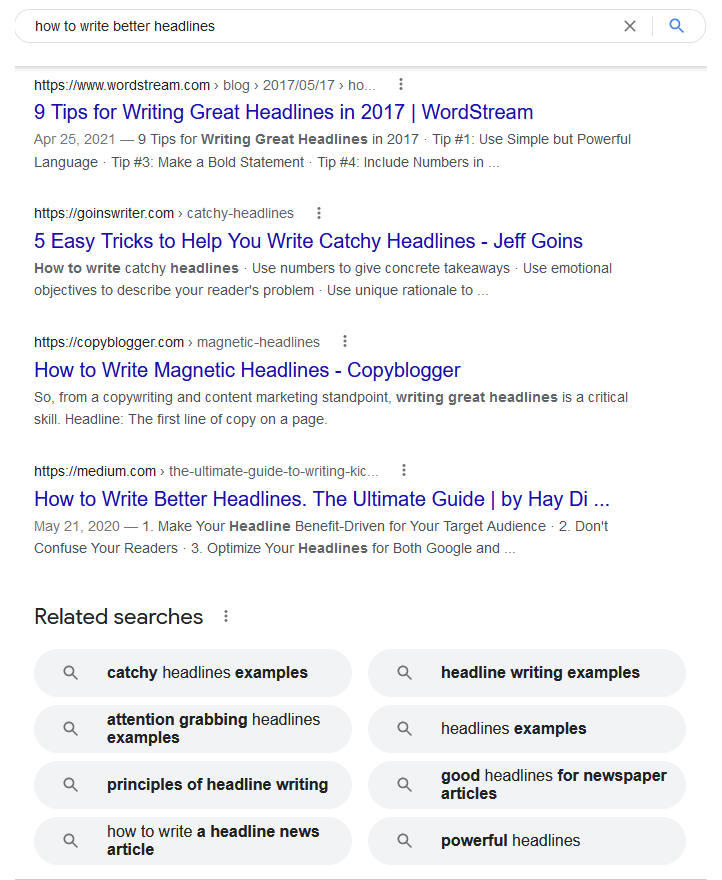 Type your headline into Google and check out the search results. You'll get around 20 related ideas on the first page alone. You're practically guaranteed to find headline structures and word choices that improve your headline.
You can use this approach to enhance your titles, headlines, subheaders, and bullet lists. If the search results are uninspiring, ask yourself:
Is my headline helpful to my prospect?
Does it provide a sense of urgency?
Does it showcase a unique benefit?
Is it specific?
Does it convey emotion?
Is it intriguing?
Great headlines don't need to satisfy all these questions. However, it's a good idea to embrace at least one of them. When crafting headlines, aim for 5-10 options before settling on the best one.
Optimizing your headlines can be time-consuming. But the effort you put into headlines outweighs everything else you write. It's worth the time investment.
Your titles, headlines, and subheaders need to work. They're likely to be the only copywriting read by most of your prospects.
2. Vanilla lead magnets are surprisingly effective
STRATEGY: Offer prospects simple, easy-to-digest lead magnets.
You don't need to produce a 100-page white paper to get your prospects' attention. Industry reports and extensive case studies can offer great value. However, there's a lot of friction and time commitment that come with fancy lead magnets.
When businesses offer heaps of lead magnet value, they tend to ask for a lot in return. Have you ever seen a landing page with a dozen form fields? Those don't always convert very well (but more on that later).
Lead magnets don't have to be complex. You're just as likely to capture quality leads from simple, tried-and-true lead magnets:
Checklists
Cheatsheets
Workbooks
Short ebooks
Templates
Video access
Besides removing friction, simple lead magnets are flexible. If a checklist isn't performing well, you can change gears. It's not difficult to experiment and test the effectiveness of a short ebook, workbook, or template instead.
If you invest heavily in a sophisticated lead magnet, you don't have much flexibility and testing speed. It's beneficial to keep lead magnets concise, straightforward, and adaptable.
3. Capture oodles of attention with video advertising
STRATEGY: Leverage the power of video to increase your engagement and lower your advertising costs.
I'm not recommending that you rely solely on social media advertising. However, it's a good idea to leverage social for a winning marketing funnel. And when you advertise on social media, video is the top dog.
There's a reason why you still see a high percentage of image posts. Images are cheap and easy to make. You can create an image in minutes, write your headline, craft your copy, and call it a day.
Unfortunately, social media users are pretty skilled at scrolling past images. Video ads are a bit different. It requires an extra second or two to process video information compared to a still image. Those precious seconds are all it takes to drive up your ad's engagement rate.
If your video is decent, you'll see significantly higher engagement than you would from an image post. More engagement, attention, and clicks lead to a lower cost per lead. High-performing video ads cost less and deliver more leads than images.
Besides, video allows you to communicate more information. As I mentioned, most prospects won't read your copy. But there's a good chance they'll pay more attention when you deliver video content.
4. Consistent visuals maximize your marketing funnel
STRATEGY: Connect your marketing funnel stages with consistent visual context.
When it comes to user experience, nothing is more unsettling than expecting one thing and seeing something completely irrelevant. It's jarring to click an ad and find yourself disoriented on a misaligned landing page.
You have to make a special effort to meet expectations with visual consistency down your funnel. Your imagery provides context and visual cues that help orient your prospects.
Most prospects who engage with your offer are strangers. They don't recognize your brand, don't trust you yet, and don't know what you do. If they find anything inconsistent or confusing, they're likely to run for the back button.
Consistent visual context is vital between your advertisement and landing page experience. If your prospect clicks on an ad for toasters, they need to see toasters on your landing page. The visual context must reinforce the user path.
If you can't keep your visuals consistent, that's a telltale sign that your funnel isn't focused. You're painting too broadly.
Lead magnets, advertisements, landing pages, and email follow-ups need to be tight and targeted. Consistent visual context plays a big part in keeping your marketing funnel clear and focused.
5. Remove unnecessary friction from your lead generation forms
STRATEGY: Use a prominent form on your landing page and only ask for the information you need.
Does a high number of form fields reduce the number of leads you'll collect? Most of the time, the answer is yes. There's often a correlation between the number of fields and your conversion rate.
Asking for more information typically reduces conversions, but not always. However, it's still a best practice only to capture the data you need.
That doesn't mean that long forms don't convert. And some lead capture requires several fields to qualify and segment your leads.
Because of this grey area, testing is the best approach to your lead generation form. There will always be fields you need, but some are just nice to have in your database. After you have a steady flow of landing page traffic, conduct some conversion tests to see what approach works best for you.
If you're just getting started, only ask for the information you need. Otherwise, you risk scaring off prospects with cumbersome forms and unnecessary hoops.
When it comes to the placement of your form, there are two things to consider. First, you want to keep the form uncluttered and prominent. It can't compete with surrounding elements. Second, it's best to place your form near the top of the page or use a strong call-to-action button to navigate to the form.
High-performing marketing funnels to the rescue
Image what your sales pipeline would look like if your marketing funnels were twice as effective. By mastering these five strategies, you'll enjoy:
Less expensive ads
More landing page traffic
Higher conversion rates
More qualified leads
Increased sales
Better customers
I'm well aware that executing a high-performing marketing funnel is demanding. If you want help taking your funnel to the next level, feel free to contact me for a no-cost strategy session. Help is just a phone call away.